Copyright 2012: Hot Box LLC | Mobile AED | All rights reserved.

Thinklabs Digital Electronic Stethoscope
Thinklabs ds32a+

Limited Edition

    The Thinklabs electronic stethoscope ds32a+ is a diagnostic electronic stethoscope with unsurpassed natural sound quality. User-friendly design and 50X Amplification provides the power to adjust for faint heart sounds, obese patients, noisy environments. this is a great stethoscope for EMT'S and a great stethoscope for hearing impaired. Outstanding performance and ease-of-use for every clinician, with uncompromised features for advanced users. From BP to ED to ICU, from heart and lung exams to iPod recording, the ds32a+ does it all. 

Amplify Mode with Adjustable Volume - amplifies up to 50X with continuously-adjustable Volume Control to set the desired augmentation for each patient. Increase Volume for faint heart sounds, obese patients or noisy environments. Use moderate Volume for children with loud heart sounds.

​Audio Input/Output - Connect your stethoscope to your iPhone, iPod Touch, iPod, Digital Audio Recorder or notebook computer for recording and listen to heart sounds on your stethoscope, for accurate audio reproduction. Interfaces with ease to existing audio equipment. Use free software for data visualization. Cables included.

Stethoscope App for iPhone / Touch - NEW! Record sounds and display phonocardiongrams or lung sounds live on the iPhone or iPod Touch using Thinklabs new Stethoscope App. The App enables you to capture sounds at the bedside, display the waveforms and spectrograms, save the files, and email recordings. The perfect bedside teaching or EMR information capture tool. Uses Apple's multi-touch interface to create an amazingly user-friendly system. (Requires Belkin TuneTalk to connect ds32a+ to your iPhone/Touch.)

1 YEAR WARRANTY

FREE SHIPPING

No need to spend $400 - $600 for similar models that only amplify 12X. Be the first of your co-workers to have this new technology and hear the difference!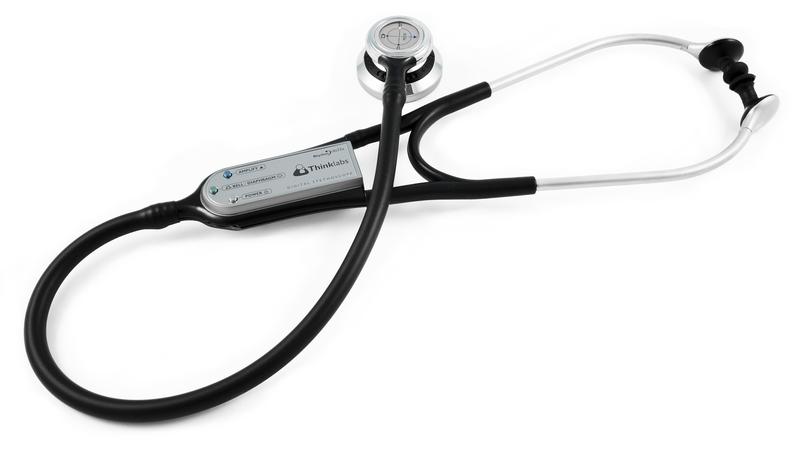 Do you have a hard time hearing lung sounds in the back of your ambulance?

Do you have a lot of alarms and back ground noise that make it difficult to hear?

Do you have hearing loss like millions of other americans?

Then this is the Stethoscope for YOU!